Best Socks for Bad Circulation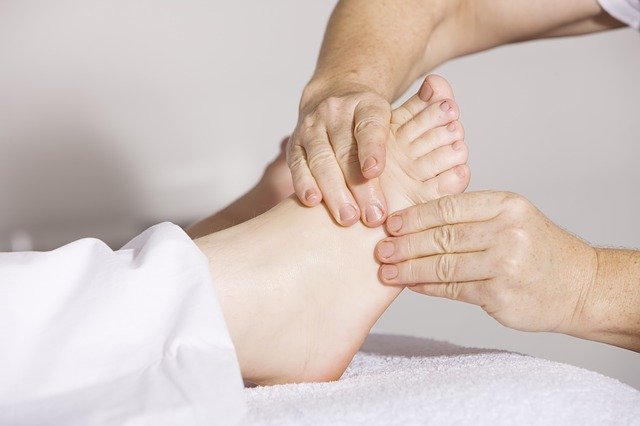 If your feet feel numb or cold or your ankles get swollen, this is a sign that you have poor blood circulation. Having poor blood circulation means your nerves are damaged. That's how they send messages to your brain and throughout your body, and they don't send signals to your body anymore like they used to. That's why your feet feel numb, or you may think that you are in pain at times. 
To improve poor blood circulation, you can wear compression socks. Compression socks are specially designed to apply gentle pressure on your feet, legs, and ankles to promote proper blood flow and reduce discomfort from its symptoms. 
Best socks for poor blood circulation
Compression socks are the best type of socks you can wear if you have poor blood circulation. If you wear regular socks or socks with a tight band at the top of the socks, this can affect your circulation. Putting too much pressure or compressing your calf can close off arteries providing blood to your foot. This can lead to intense pain and increase the possibility of developing complications such as skin ulcers. 
To prevent problems like these from developing, you must choose your socks wisely and prevent yourself from wearing the wrong socks that can give your poor blood circulation. If you are unsure of what socks or types of socks you should be wearing, call your doctor or ask for help from a professional, they can provide you with the information you need to avoid confusion and give you clarity. If you are looking for what type of compression socks you should buy, here are some of the best brands that create compression socks. 
Diabetic Sock Club Over The Calf Compression Stocking Socks

- Made in the USA from premium quality materials, these compression socks are ultra-soft and cozy with moisture-wicking properties.  Diabetic patients can develop blisters on their feet and a foul odor due to moisture, leading to severe foot-related problems. Regular use of over the calf compression socks helps in preventing blistering and minimizes bad odor





The secret behind the effectiveness of compression socks is its unique gradual compression design. When you wear the socks and place them over your calf, it begins applying gradual compression on your lower limb. The pressure is more directed towards your ankles and feet, and as it moves upwards, the compression lessens. This mechanism promotes optimal blood supply to and from your lower limbs providing ultimate comfort and reducing joints or muscle pain and soreness.
Bitly Plantar Fasciitis Compression Socks

- These compression socks give you arch support to relieve heel pain if you have diabetes or other diseases. The arch support applies soft compression in the center of your feet which stimulates proper blood flow to ease pain and discomfort. It also has a Nano brace feature for ultimate comfort.





It also has a moisture-wicking ability that you won't find hard to put on under any shoes or slippers. You won't also have to worry if your feet will get sweaty because of wearing socks. Its moisture-wicking ability will keep your feet dry and safe. 
Zensah Tech+ Compression Socks

- These compression socks improve blood flow in lower legs, shin splints, and calf by providing a gentle squeeze. The pressure that these socks give around your ankle will prevent injuries. It also has a seamless toe that will help prevent your feet from getting chafe and blisters.





These compression socks are also a graduated type of compression socks, meaning that maximum compression will remain at the calf area and less in the calf region. Their anatomical feature means that they can deal with strains and pressure on your left and right foot individually. 
CEP Tall Socks for Performance

- Compression socks help people diagnosed with a disease, but they can also help athletes! You may find these socks great, especially if you are an athlete woman that needs comfort and durability.





These graduated compression socks have 20-30mmHg to boost blood flow for better performance. These socks also avoid skin-to-material rubbing that can cause blisters to develop. These socks are also great for traveling, nursing activities, or activities like hiking or cycling. 
Physix Gear Compression Socks

- These compression socks are made with lycra with excellent stretching ability. It is also very durable and long-lasting. They also have a compression of 20-30mmHg and are available in two different sizes to accommodate people that have wider calves.





Their small and medium sizes are suitable for people with 9-15 inch cleaves, and their 14-19 inch calves are great for people with significant and extra dimensions. 
SB SOX Compression Socks

- If you are on a budget and trying to find a good pair of compression socks, these are the socks for you! SB SOX Compression Socks are durable and lightweight, and your feet can still breathe and not sweat because of their lightweight fabric.





They have a wide range of sizes and styles, perfectly fitting to match your needs. These compression socks also have cushioned heels for extra protection and toe support, making them comfortable even if you wear them for long periods. 
Plus, Ankle Compression Socks

- If you are physically active and go on a run every day, especially if you have diabetes, be physically active. These compression socks support your ankle after runs. Their circular pressure design is designed to keep your feet at the right angle to prevent injuries. Its moderate compression will make you comfortable running but still promotes proper blood flow and oxygen.





These low-cut socks are made out of absorbent fabric that will keep your feet dry as you run. 
Sockwell Incline Graduated Compression Socks

- These socks contain Merino Wool, which helps provide durability, thermal comfort, and support to your Achilles tendon shin and add muscle. This type of fabric is designed to improve the oxygenation of muscles and reduce fatigue.





These socks also have ventilated mesh panels that will keep your feet dry when you do activities like walking, running, and hiking. These socks also have reinforced toe and heel and have extra cushioning under the forefoot. 
PRO Compression Marathon Socks

- These socks have a wide top cuff allowing your legs to breathe and proper blood flow. Its graduated compression will make you feel more relaxed and reduce any muscular pain in your feet. If you are an office worker and you have to stand all day, these socks can help you feel more comfortable.





These socks will reduce soreness and swelling from varicose veins, arches, and calf muscles. 
Lily Trotters Athletic Compression Socks

- These socks are 15-20mmHg, and the maximum amount of pressure is at the ankles and Decreases as it goes up your legs. These socks will help reduce swelling, soreness, and muscle cramps while giving a fashionable design for compression socks. It also slows down spider and varicose veins.





These are just some of the best brands for compression socks that you can consider when trying to find the perfect pair. It is essential that you talk to your doctor about your condition, different patients who experience various symptoms and need other cures and treatments. 
How to choose the right type of compression socks
Finding the right pair of compression socks will help people with circulatory problems or bad circulation regain back their energy so that their legs can function better with the help of compression socks; here are some tips and things you should know when finding compression socks. 
Should snug your legs but not too tight - Compression socks are made to be snug your feet for proper compression, but they should not be too tight that you are having a hard time putting them on that you need to fight, and they should not be too close that they are not letting your blood flow correctly. Avoid compression socks with elastic bands at the top, as they hinder proper blood circulation. 
Get the right pair of socks that fit well - Make sure that you have compression socks that will provide you ideally and give you maximum benefit. You may also need different types or designs of socks appropriate for you to wear at formal events. Get more than one pair of compression socks so that if you need to wash the other pair, you will still have an extra pair that can be worn. 
Talk to your doctor - Ask your doctor how to put compression socks correctly. You should know about your condition so that you won't have to worry if you have done something wrong. Your doctor will give you recommendations and a proper treatment plan to help you. Doctors will also describe and explain how compression socks work and how they will benefit your condition. 
Know the different compression levels - You should purchase compression socks that will offer you the right compression level according to your condition. Most compression socks have 8-10 mmHg to 40-50 mmHg of reduction. This will indicate how snug and tight your compression socks will be; different conditions need different levels of compression. 
Wear them throughout the day and remove them at night - For some patients, their doctors recommend them to wear their compression socks even at night, but most cases won't recommend you do so. Compression socks work best when you wear them during the day and give your feet some rest from the socks at night. 
Wear socks during physical activities and at work - Both athletes and underlying medical conditions benefit from wearing their compression socks. If you are an athletic person, you may find wearing compression socks very helpful because they can recover you from injuries quickly. For people who have to stand all day long, medical compression socks will give you benefits and help you feel relief during these tiring hours at work. Compression socks will help your feet to be protected and feel comfortable. 
How can compression socks improve poor blood circulation? 
Compression socks help improve blood circulation. Compression socks work by improving blood flow in your legs. The light compression of the socks gently pushes blood flow up the leg, helping to prevent swelling and clotting of blood. With weaker circulation, the development of blood clots and blood retention in the legs can be faster. Compression socks help your circulation and reduce symptoms from circulatory or nerve problems. 
Dr.Botek from the Cleveland Clinic states that compression socks gently squeeze your legs. Compression socks increase the pressure in the tissues beneath your skin, reducing excess fluid leakage by the capillaries and lymphatic vessels. Compression socks also reduce the ability of superficial veins to expand to fill with blood which prevents blood from flowing backward, causing congestion. 
Types of compression socks 
There are two types of compression socks that you will generally find: graduated and anti-embolism stockings. 
Graduated compression socks are the more common types you'll find and what people diagnosed with circulatory problems usually use. These compression socks have different ranges of compression; these socks are tightened around the ankle and get loose as they go higher to your legs. Compression socks come in two different lengths - knee high and thigh high but full compression tights are growing more popular with athletes. 
The second type of compression socks is anti-embolism stockings designed to help maintain circulation and prevent blood clots from developing. Still, people who just went through surgery are confined to bed. Pregnant women are primarily the patients who use these types of compression socks. 
Advice for people who are new to using compression socks
If you are starting to wear compression socks, but you find them uncomfortable as you wear them throughout the day, you can take them off. Your feet need to adjust to compression socks, and you shouldn't force them to get used to it right away. It would be best if you talked to your doctor about this situation. If you feel your compression stockings are uncomfortable, this might also be because they don't fit you right. 
You will eventually find wearing compression socks comfortable. As long as they fit you right and fit your needs exactly, they will maximize benefit. Remember to find the balance between sitting and standing for an extended period, which can cause swelling in your legs. Make sure to drink plenty of water and eat healthy foods or follow your diet plan every day.