Best foot soak for neuropathy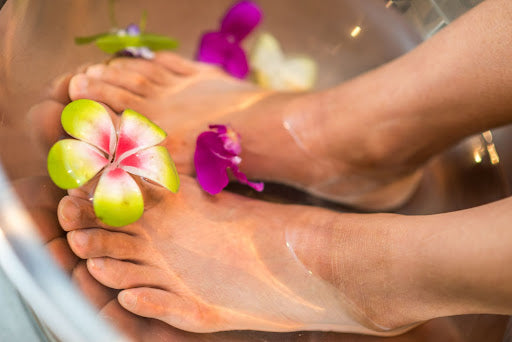 Peripheral neuropathy is a term for nerve damage that typically affects the hands and feet and can result in numbness, discomfort, and weakness. Peripheral nerve damage can impact how your hands, feet, legs, and arms function since they transmit information from your brain to your arms and legs. Peripheral neuropathy can have several distinct causes, but diabetes is the most frequent.
Pain and neuropathic sensations are experienced in the feet that often worsen at night. Other typical symptoms include tingling, burning, itching, and hyperalgesia, which may negatively impact the quality of life. One of the main objectives of treatment for peripheral neuropathy is pain reduction. While some people find comfort in taking prescription pharmaceuticals, others use DIY cures and non-pharmaceutical pain killers like foot soak.
Is foot soaking help with neuropathy?
Foot soaks in a foot spa or a basin of warm water can reduce neuropathy symptoms. Adding natural painkillers and sedatives like Epsom salts, essential oils for neuropathy, medicinal herbs, or Cannabidiol (CBD) products to foot soaks another fantastic idea.
Nevertheless, 
However, foot soaks can make diabetic neuropathy foot discomfort more manageable, but it is not the treatment. Although soaking your feet in Epsom salts or apple cider vinegar won't reverse neuropathy, it can make you feel better by easing your pain.
Yet, is it okay for people with diabetes to soak their feet?
The answer is yes; foot soak poses no risk to those with diabetes or neuropathy when done sensibly and carefully. But remember that diabetes and neuropathy-affected feet are extremely delicate and susceptible to various ailments. To prevent any harm:
Use a thermometer to monitor the temperature of the water constantly. Your feet's injured nerves are unreliable for determining the temperature of the water. Do not use HOT water. Your skin could burn without you realizing it. Lukewarm water is best.

If your feet have open sores, blisters, or cuts, refrain from soaking them.

Not at a nail salon, as you can never be sure of its cleanliness! Only use your buckets and soak your feet at home. In reality, a nail salon is not a good place for persons with diabetes to have pedicures.

Be careful what you are adding to your foot bath. Online foot soak recipes for neuropathy can sometimes be excessively aggressive and harmful. Do not add anything harsh to the water (no bleach, no alcohol, no hydrogen peroxide). Always get advice from your doctor first.

Good things to add to the water are apple cider vinegar, table salt, soap, Epsom salt, Betadine, bubble bath, and over-the-counter foot soaks. 

Water should be added to anything at a 10:1 ratio (10 cups of water plus 1 cup of solute from the list above.)

Avoid oversoaking. More than 30 minutes of foot soaking three to four times a week will weaken your skin's protective barrier.

After the soak, dry your feet entirely but gently, paying specific attention to the space between your toes. Blisters on wet skin are readily injured and eventually become infected.
Foot care through foot soaks.
You may give your feet some much-needed self-care by soaking them in a dedicated foot spa or your bathtub. Warm water for your foot bath help eases foot nerve discomfort. Additionally, you can use the foot bath to experiment with additional natural neuropathy treatments by including Epsom salts, healing herbs, or essential oils. Warm water baths and foot soaks can instantly relieve pain from neuropathic conditions. They have been shown to: 
Alleviate pain

Reduce stress

Muscular relaxation

Encourage healthy blood flow
Best Foot Soaks for Neuropathy
Taking care of your feet should be one of your priorities if you have nerve pain in your legs and feet. Numerous homemade foot soak remedies can aid neuropathy symptoms. What you can use for soaking your feet will be based on the symptoms you experience and the level of comfort you seek. Other ingredients, like medicinal herbs or essential oils, can enhance blood circulation, nourish your skin, or warm up cold feet; meanwhile, Epsom salts may help reduce diabetes-related foot pain and edema. Here are the best foot soaks you can try.
Foot baths with Epsom salts & magnesium deficiency
Magnesium sulfate, often known as Epsom salts, is frequently used to soothe muscular pains, lessen pain, reduce itching, reduce swelling, and increase magnesium levels. Epsom salt foot soaks should only be used under close supervision, even though they may appear ideal for neuropathy symptoms frequently made worse by a magnesium deficit. Baths with Epsom salts may dry up your skin and exacerbate your foot issues. Never misuse it, and always moisturize your feet after soaking.
There is no evidence that the body can absorb magnesium through the skin. Your doctor will likely advise you to take magnesium supplements if you have a magnesium shortage and need to raise your levels.
Choose Epsom salt soaks that also include nourishing oils for the skin to balance out the potential effect on dry skin.
Apple cider vinegar foot soak 
One of the most well-liked natural treatments for neuropathy is apple cider vinegar. The Earth Clinic claims that apple cider vinegar relieves nerve pain by making the body more alkaline, eliminating toxins, and supplying the body with various vitamins and minerals to make up for nutrient deficiencies that may otherwise worsen nerve pain.
Even though there is no proof that it works, many people with nerve pain like to soak their feet in apple cider vinegar; you'll have to give it a shot on your own to see if it works! Caution: undiluted vinegar can damage your skin. Mix one volume of apple cider vinegar with three volumes of water to make a foot soak.
Recipe for a foot bath with essential oils for damaged nerves
Using essential oils and aromatherapy is a great all-natural alternative for painkillers for neuropathy. Many people discover that essential oils efficiently lessen nerve pain.
To prepare a homemade neuropathy foot bath with essential oils:
Select the essential oil blends that you want to treat your neuropathy.

Fill a small jar with 1/3 cup of Epsom salt or the Dead Sea salt.

Add three tablespoons of the nourishing oil of your choice (coconut, argan, jojoba, or other)

Add a few drops of your chosen essential oils 

Stir well to mix all the ingredients

Warm water should be added to the mixture, and you should stir it until the salts dissolve

Take a 20 to 30-minute soak, then pat your feet dry.
Herbal neuropathy pain-relieving foot baths
This may seem hard to believe, but herbal foot baths for diabetic peripheral neuropathy are effective in numerous studies. Traditional Chinese medicine is an excellent medical practice. Herbs used as medicine can help people with diabetes in various ways, including lowering blood sugar levels, easing nerve discomfort, reducing swelling, and improving blood circulation.
The most famous therapeutic herbs and extracts for treating diabetic peripheral neuropathy are cayenne pepper, frankincense, myrrh, honeysuckle vine, camphor tree, turmeric, St. John's wort, nutmeg, and safflower.
If you have diabetes and are experiencing peripheral neuropathy, have your doctor examine your feet and offer advice on the best at-home foot soaks that suit your condition.