Made In The USA!
Great for Tired, Aching Feet and Legs
Prevents Ankle and Foot Swelling
Prevents Calf Muscle Cramps
Helps relieve signs and symptoms associated with varicose and spider veins
Compression Strength (mmHG or Millimetre of mercury)

8-15 mmHg is low compression
15-20 mmHG is a medium compression strength
20-30 mmHG is our highest level of compression
Give Comfort to Your Tired and Aching Feet and Legs with Over the Calf Compression Socks.  People with diabetes often experience tired and aching feet and legs, cramps in calf muscles, spider and varicose veins. All these conditions affect the quality of life and everyday routine functions. Over the calf compression socks for men are specially designed to give comfort to tired and aching feet and legs of not only diabetics but also other individuals.
Made in the USA from premium quality materials, these compression socks are ultra-soft and cozy with moisture-wicking properties.  Diabetic patients can develop blisters on their feet and a foul odor due to moisture, leading to severe foot-related problems. Regular use of over the calf compression socks helps in preventing blistering and minimizes bad odor.
Gradual Compression Design.  The secret behind the effectiveness of compression socks is its unique gradual compression design. When you wear the socks and place over your calf, it begins applying gradual compression on your lower limb. The pressure is more directed towards your ankles and feet, and as it moves upwards, the compression lessens. This mechanism promotes optimal blood supply to and from your lower limbs providing ultimate comfort and reducing joints or muscle pain and soreness..  
Customer Reviews
Write a Review
Ask a Question
Filter Reviews:
socks
compression
pair
size
quality
relief
others
money
knee
color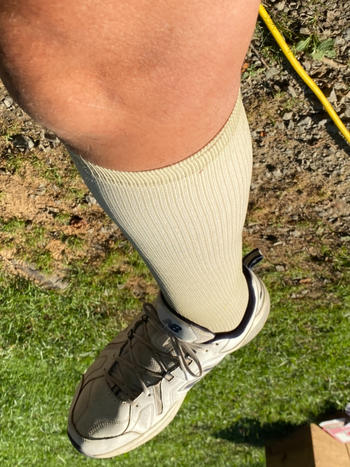 08/02/2021
I recommend this product
Phenomenal socks!
They have been through multiple washings and have been worn daily. I bought 3 pair at first to check them out… with in two weeks I ordered 3 more pair. I love 'em! They fit great out of the package and still fit great! I wear them with shorts on most of the time so they get exposed to all the tasks I do… from wood and metal work to yard work pruning trees and loading brush… and their performance has been outstanding!
Todd M.

United States
09/19/2021
I recommend this product
Sam
Great socks, good price.shipping has improved
Anonymous

United States
09/15/2021
I recommend this product
They work great for swelling, not much on toes relief though. Well worth the try , I will be ordering more soon.
gary o.

United States
08/04/2021
I recommend this product
Well-fitting sock
The size and length were perfect.
Anonymous

United States
08/04/2021
Compression Socks
Uncomfortable when the outside temperature exceeds 90 degree. Having had much use yet. I am waiting for better weather..
Guenter K.

United States
07/02/2021
Very satisfied
The socks are a little tight at the beginning but in time they fit perfectly and comfortably. And they never roll down until I remove them at the end of the day. That's the quality that I expect from a dedicated and true craftsmanship which I have missed since very long.
Peter N.

United States
06/06/2021
Great socks
Outstanding I love them.
John T.

United States
05/11/2021
tight
They run small and tight. Good color and quality.
Anonymous

United States
05/03/2021
Order 3 more pair
They are the most comfortable socks I have worn. Thanks for making them.
Russell B.

United States
04/20/2021
Very nice sock
I am giving a recommendation but it is a little early. I need to launder them several times for a truly good test. They are extremely soft and easy to put on. The other brand is difficult to get over the heel.
James W.

United States
04/09/2021
TOO TIGHT ON CALVES
THEY ARE NICE SOCKS, I ORDERED THE LARGEST SIZE HOPING THEY WOULD FIT MY CALF. THEY DID NOT! IT CUT MY CUCLATION OFF.
Debra C.

United States
04/09/2021
Men's over calf compression sock
Good. Love that they hold their shape longer than other brands.
Anonymous

United States
04/08/2021
Compression over the calf socks
Putting them on is easy but i need more compression.
Penny W.

United States
04/05/2021
The only bad thing about the socks is there nice but with that band they have around the lower part where the cat that makes my make me swell so I can't wear them I do like them though they're just not the right time for me thank you
James G.

United States
04/02/2021
LOST SOCKS
please be advised that I never received the socks Leo Weber 1 Bishop Gadsden Way Apt 225 Charleston SC 20412
Leo W.

United States
04/01/2021
Great socks
Great! Easy on and easy off.
Anonymous

United States
03/01/2021
Diabetic compression sock
Socks are good quality although a hair long. Still compress and hold up very well. Will buy again
Curtis W.

United States
01/08/2021
I'm glad I found your product when I did! Because my condition hasn't officially been declared,, the Relief I felt was immediate.?.very heavy sigh...then kinda didn't want to take them off for bed. Slept easily. Since my condition seems to be relieved, I don't wear them until the onset of symptoms and within seconds I'm ready to go again! SERIOUSLY!
Frank F.

United States
01/04/2021
Compression sock
They alleviate tired legs
Anonymous

United States
01/04/2021
COMMPRESSION SOCKS
My husband says they really helped him. Bought natural and black
Anonymous

United States