What Type of Socks Are Best For A Diabetic?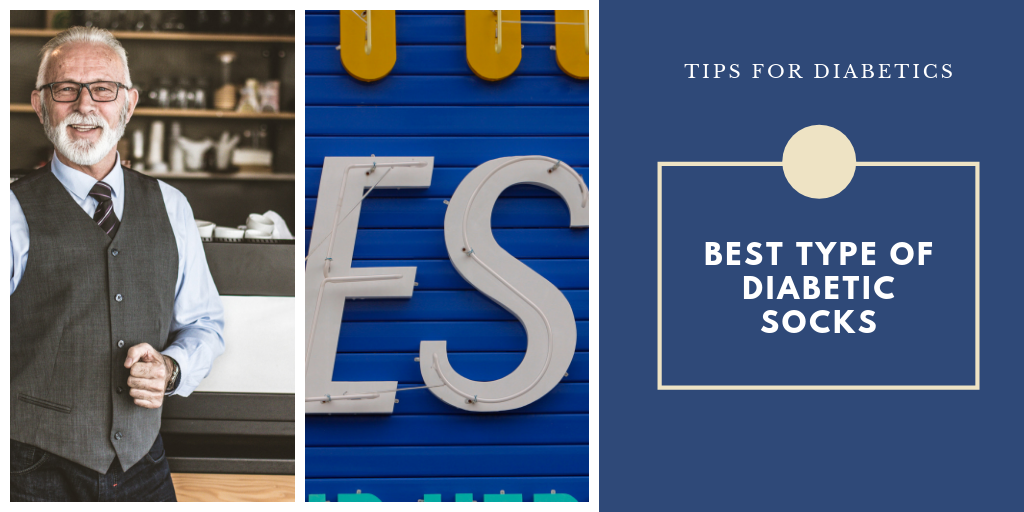 Many diabetics know that they shouldn't walk around barefoot, even in their own house, to better protect their feet. Keeping your feet in a set of dry socks, protected from potential injury and infection, is key to preserving their health. However, with so many sock options on the market, it can be hard to tell what type of socks are best for diabetics.
You should work together with your doctor in order to identify what type of help your feet need before looking through all of your sock options. You're the only one who knows exactly what type of socks your feet will need - you're the one living with your feet, after all. Figuring out exactly what type of support your feet need and then giving it to them is a great way to take a step toward a healthy lifestyle.
Types of Socks For Diabetics
There are many different styles and brands to choose from when it comes to specially made diabetic socks. The right pair can make all the difference in how you take care of your feet and legs. It's important to do diligent research on your options, reading all reviews and features of a sock, before picking your next pair.
Diabetic socks are specifically designed with the challenges of having diabetic nerve pain in mind. Getting your hands on a high quality pair of socks can help change the way you manage the pain, swelling, and discomfort in your feet.
Diabetic cotton socks
Designed to provide comfort for diabetics with feet issues

Made of lightweight soft cotton material

Fit comfortably on your feet and legs without binding

Help keep feet warm to improve blood circulation

Crafted without an irritating toe seam
Diabetic cotton socks are great for those seeking both comfort and protection from the everyday hazards a diabetic's feet may face like cuts and scrapes. Made from lightweight cotton, these socks are designed to fit snugly without feeling too constricting or binding. As an added bonus, many versions of diabetic cotton socks are seamless to help reduce irritation.
Cotton diabetic socks come in a wide range of sizes, lengths, and width options for feet of all shapes and sizes. A good fit is essential for helping promote blood circulation, reduce potential injury risk, and overall comfort. Finding a fit that's just right for your feet is key with this type of sock in order to reap the full benefits.
Compression socks
Use compression to help promote blood circulation

Come in varying sizes and pressure amounts

Compression socks not specifically designed for diabetics may lack the proper fit

Help decrease the risk of blood clots in the legs
Compression socks and stockings use gradual pressure to help relieve the symptoms of diabetic nerve pain and swelling in the feet and legs. The pressure helps promote healthy blood circulation. This has been proven effective at helping reduce symptoms such as swelling and leg discomfort. Compression socks are great for diabetics who aren't sensitive to pressure in their legs and are looking for a way to help take care of their feet.
Most compression socks designed for diabetics employ a mild pressure to effectively promote blood circulation. Due to their construction, they're unlikely to bunch up or wrinkle and cause unwanted pressure in sensitive foot pads or toes. For patients who have limited mobility, compression socks can be used to help offset some of the problems that can arise in diabetic feet.
Helpful tip: Irregardless of what type of sock you're putting your feet in, make sure that both your feet and the socks are clean! A well crafted pair of socks should be able to be put in the laundry as often as necessary. However, there's nothing like a new pair of socks - have you ever imagined being able to have them shipped right to your door right when you need them?
Should a diabetic wear compression socks?
There's plenty of research out there touting the benefits of compression socks, and there's no reason that diabetics shouldn't take advantage of them. Diabetics should consider wearing compression socks (after talking with their doctor) if they suffer from one or more of the following symptoms:
Poor blood circulation

Swelling of the legs and feet

Spidery or otherwise prominent veins

Frequent leg pain and aching
Compression socks may help alleviate some symptoms of diabetic nerve pain, however they are not the end all be all sock solution. Some diabetic patients find that compression socks apply too much pressure to their sensitive legs and feet. Others diabetics may prefer keeping their feet dry in a breathable cotton diabetic sock to keep an eye out for potential injuries or other problems.
As we touched upon earlier, you're the only person who lives with your feet 24/7. It's important to find the sock solution that works for you.
Diabetic patients often find that having a pair of compression socks on hand is a good idea even if they normally wear cotton diabetic socks. This allows you to switch between pairs as needed to help calm down swollen or otherwise irritated legs and feet. (For example, if your feet swell in the evenings but not during the day, you would wear cotton diabetic socks during the day and your compression socks at night.)
Get A Specially Designed Diabetic Sock
Both cotton diabetic socks and compression socks are crafted with the needs of a diabetic in mind. This means that they can help alleviate painful or uncomfortable symptoms. While cotton diabetic socks achieve this through a comfortable fit with a breathable design, compression socks use light pressure to achieve relief. Both are great options with the ability to help improve your feet's health.
The most important thing you can do for your feet's health is to get yourself a pair of socks designed to fit their needs. By taking care of your feet now, you can save yourself a lot of potential risk down the line.