What Spices Help Lower Blood Sugar?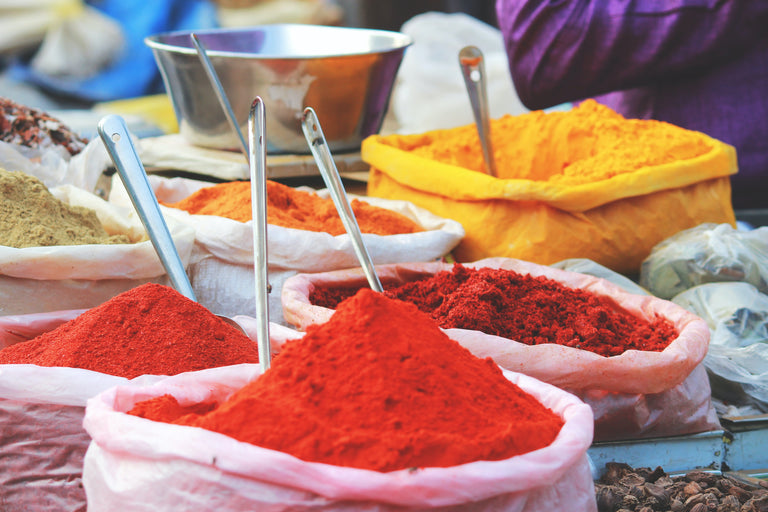 Modern diets have made us vulnerable to many diseases. Diabetes is one such disease that is causing a lot of trouble. This disease was rare half a century ago. The spread of this disease has opened floodgates for its cure and remedial measures. People are trying homeopathic therapies, allopathic medicines, and herbs to cure this disease. Many of these diabetic patients have resorted to controlled physical activities. 
Now, herbs and spices are in use to reduce blood sugar levels, at home. Deep research has been conducted on various spices to check how they can impact lowering blood sugar. There are certain spices that have the ability to combat blood sugar. While the progress is low and slow, it is helping patients lower intensity of blood sugar. Let's see what spices help lower blood sugar.
Garlic
Garlic is used for diabetes and various other medical conditions. The compounds in garlic can help reduce insulin secretion and sensitivity. 
Garlic is good for having vitamins B and C. Vitamin B-6 improves metabolism and Vitamin C contains blood sugar. In general, garlic has positive effects. Like, it can: 
Improve your cardio system by lowering cholesterol and triglycerides
Lower blood pressure and cholesterol
Have an anti-tumor effect

 

Have strong antibacterial effects
Reduce inflammation with type2 diabetes
It contains 400+ powerful chemical components, like Di-sulfide, and Allicin. Allicin, which is a sulfur-rich compound, has positive effects for increasing the insulin from beta cells, in the pancreas. It will also help increase hepatic metabolism.
Garlic has it potent affects in any form, raw, cooks or aged garlic will have same impact. Oral administration of garlic has affects for reducing serum glucose, cholesterol, triglycerides, urea, and uric acid, etc.
Cinnamon
Traditionally, cinnamon has high antioxidants that are good for fighting high blood sugar levels. Antioxidants will reduce oxidative pressure, cell damage that comes from free radicals. It lowers your blood sugar by emulating the insulin effects, and increasing glucose travels into cells. 
Cinnamon has a great impact to keep blood sugar levels in check, after meals. It will slow down the rate at which food leaves your stomach. You may have seen cinnamon in use for reducing heart diseases and treating Alzheimer's disease. You can divide it into two groups, cassia, and Ceylon.
Cassia cinnamon comes from a Cinnamomum tree. It's commonly available. 
Ceylon cinnamon comes from Cinnamomum verum tree. It's expensive for the cassia group. Cinnamon has a great impact on glycemic control for type 2 diabetics. 
Turmeric
Turmeric is used by both, Ayurvedic and Chinese medication for hundreds of years. It's a great spice for human consumption. Turmeric has curcumin, which gives it a unique orange tint.
You may turmeric helpful in digestion, relieving pain; brighten the skin, increases liver function, and etc. This root's anti-inflammatory and anti-oxidant properties aid in the treatment of all forms of diabetes as well as the prevention of diabetes.
Furthermore, turmeric will work in an ardent manner to improve you insulin working by lowering insulin obstructions. It will ensure beta cells improve insulin pathways. It will reduce the incendiary signs and treat numerous diabetic indications.
Turmeric also helps in increasing the immunity and the prevention of diseases that diabetics are prone to. Many diabetics develop arthritis as a result of the sugar-laden blood and inflammatory processes associated with diabetes. This may lead to weakening the joints. Here, turmeric's anti-inflammatory properties will reduce soreness and joint pains.
Ginger
Ginger extract has a strong anti-hyperglycemic effect. It decreases overall cholesterol, triglycerides, and raises HDL cholesterol levels throughout the blood.
Acid reflux is a very common problem for diabetics. Ginger soothes your digestive system, providing justification for diabetics to use it in their vitamin regimen.
According to a study published in the natural product journal Planta Medica (Aug 2012 edition), ginger can help people with type 2 diabetes maintain long-term blood sugar regulation.
You may find it worthy to note, Australian-grown ginger (Buderim ginger) extracts are rich in Gingerols. It's an active component of the ginger rhizome the can help improve glucose absorption into muscle cells. This process may come without the use of body insulin. It will control high blood sugar levels. This is another spice that can lower blood sugar levels.
Cloves
Clove has the best antiseptic and germicidal effects since it incorporates about 30% antioxidant phenol, as well as antioxidants anthocyanins and quercetin. Diabetics must benefit from clove's anti-inflammatory, analgesic, and digestive health properties.
Cloves will keep your blood sugar levels in check due to promoting insulin production, and further controlling diabetes.
A study was made to find out if at all or how clove extracts can help lower blood sugar levels. A standardized clove extract was tested on stable people and those with pre-diabetes in a trial. Safe adults and pre-diabetics who were treated with polyphenol-rich clove extracts had lower after-meal blood sugar levels. This result was significant to conclude that clove extracts can be good for aging patients having less than optimal glucose control.
In some other experiments on 36 people having type2 diabetes, the patients were divided in four groups and were offered 1, 2, and 3 g of cloves daily, and one group was offered nothing. Then it was followed by a 10-day washout cycle. The results for all groups were:
Serum glucose fell from 225.67 mg/dl to 150.46 mg/dl.
Triglycerides fell from 235.63 mg/dL to 203.86 mg/dL.
Total cholesterol in the blood dropped from 273 78 mg/dL to 239 47 mg/dL.
LDL cholesterol fell from 175 73 mg/dL to 145 44 mg/dL.
Rosemary
Rosemary has antioxidants like rosmarinic acid, gallic acid, and eugenol, in abundance. Rosemary's fresh and dry variants are medicinally potent, though fresh one is preferred dry rosemary also has been found great in medication for lowering blood sugar and weight loss.
Furthermore, rosemary has anti-hyperlipidemic and anti-hyperglycemic properties. Both are great for curing or controlling any level of diabetics. Rosemary has characteristics to stabilize and lower blood sugar, cholesterol, and triglyceride levels whenever used in therapeutic doses.
It's a popular culinary herb packed with healthful compounds that can work as an anti-diabetic medication. 
A therapy test was conducted for 90 days where the patients were given rosemary tea 2g/1 liter of water every day. This was an attempt to see if there will be any normality in insulin, oxidative stress, in type2 diabetes.  After 90 days it was found to decrease the amount of insulin resistance glycated hemoglobin, as well as the pancreatic beta-cell function. You will also notice a significant difference in lipid peroxide levelspeop. It was a promising treatment for drug-resistant T2D patients.
Fenugreek
Fenugreek is a marvelous medicinal herb that has been used in Ayurveda and traditional Chinese medicine for thousands of years. It does include the amino acid 4-hydroxy isoleucine, which is a great booster to metabolic effects of both type 1 and type 2 diabetes. It does so by decreasing fasting blood glucose levels and cholesterol. During that process, it will increase carbohydrate digestion and glucose to insulin ratio.
Furthermore, when type-1 diabetics used fenugreek seeds medicinally. This increased their glucose tolerance, lowered fasting blood sugar levels, and reduced urinary glucose production by 54%.  At the same time, another study n type2 diabetics were conducted. In this study fenugreek seeds were used, it lowered the spike in blood sugar levels. It also lowered cholesterol, an important step in the regulation and management of diabetes and heart disease.
Gymnema
Gymnema sylvestre is native to India. This sugar destroying spice is suitable for people with type one and type two diabetes who take or used to take gymnema showed signs of progress. It will help dropping fasting blood sugar levels with type1 diabetics, who used it for 18 months, compared to those who used one insulin.
In other gymnema studies, people with type 2 diabetes reacted favourably to both the leaf and the extract over time.
Any people have had the following experiences:
blood sugar levels that are lower
Increased insulin levels
It may be beneficial to use either the field leaf or the leaf extract. However, before you begin using it, always consult your doctor.
Sage
Sage includes a combination of anti-inflammatory and antioxidant compounds. Sage has been noted for its metformin-like effects and is a recognized anti-diabetic intake for type1 and type2 diabetic patients.
It may be consumed as a tea (infusion) or used as an essential oil. Sage tea infusions have also been shown to be as effective as metformin in the treatment of type 2 diabetes, increasing insulin action and reducing glucose output in the liver.  It can also help to strengthen lipid profiles and boost your antioxidant defenses.
Conclusion
You should consult with a doctor before opting for a herb or spice as sure medicine for blood sugar related conditions.  Please work with healthcare professionals before taking such supplement. The doctors may suggest starting with a lower dose and gradually increasing it until the person finds a suitable dose.
At the same time, some herbs and spices can over-react with other medications for the same job. Furthermore, you may ensure to get herb and spice medicine from a reputed medical store.
Nonetheless, spices have great chance to improve your blood sugar, you may add a healthy activity along.