The Best Diabetic Socks of 2024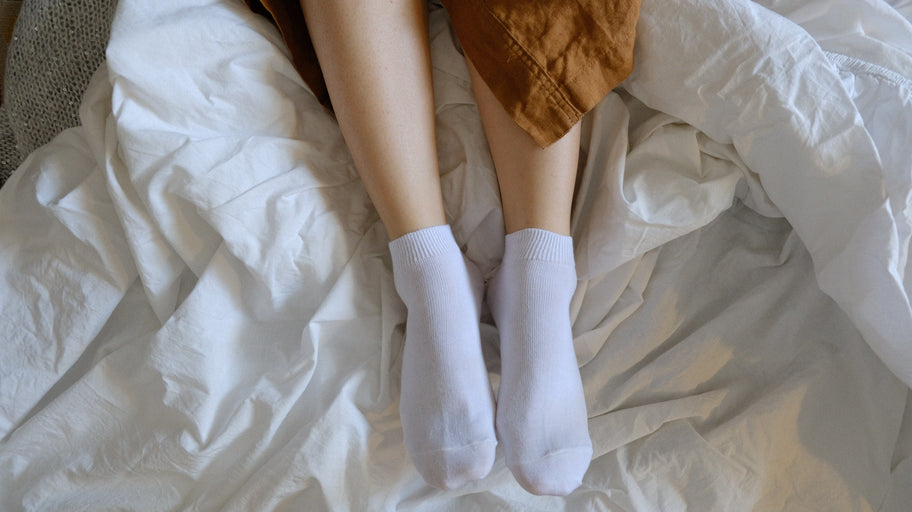 Updated 1/2/2023:
People with diabetes, whether they have type1 or type2 diabetes, mostly come along with foot problems. Diabetes can cause nerve damage leading to severe pain in your feet and lower limbs. Moreover, high blood sugar levels, abrupt blood circulation, and loss of sensitivity make wounds hard to heal.
This is what it means to have Diabetic neuropathy. Diabetic Neuropathy is a type of nerve damage if you have diabetes. This damages the nerves in your feet and legs. High Blood Sugar (Glucose) can injure nerves throughout your body.
And when you have diabetic neuropathy, you are at the risk of developing foot infections and injuries. The wound healing process for a person with diabetes is longer than for a healthy person. Sometimes, even a blister can cause unbearable pain and sleepless nights. A foot ulcer may lead to limb amputation, and that's the worst situation for a diabetic patient.
If you develop Diabetic Foot Ulcers, the first thing you should remember is not to treat them on your own, no matter how mild the wound or sore appears to be. Make a note of it and report it to your doctors and health professionals as soon as possible so that they may evaluate and better analyze your situation and provide you with the appropriate advice. Because the end goal is for the ulcer to heal as rapidly as possible to avoid infection, and you don't want to make it worse.
Here are some things you can do to prevent experiencing Diabetic Foot Ulcers:
Check your feet regularly. Schedule a time every day when you can check your foot for sores, blisters, wounds, callouses. And remember, don't treat them by yourself no matter how minor it is

Bathe and clean your feet properly and then keep them dry. This also includes your toenails.

Make sure you position yourself in a way that blood flows properly.

Check your blood sugar regularly.

Wear diabetic socks and shoes. There are lots of footwear available that's made especially for people with diabetes. These socks and shoes offer extra support and cushion and are non-binding.
What are Diabetic Socks?
Diabetic socks are medically designed to reduce the risk for cuts, infection, poor blood circulation, moisture, blisters, and fungus. These socks will keep your feet healthy by protecting your skin. They also help in maintaining blood flow or pressure at an optimum level.
Diabetic patients should avoid wearing diabetic socks with tight elastic bands to prevent congestion or accumulation of blood. Look for breathable socks that do not build up moisture. Ensure to keep your feet dry.
It would be best if you took great care to tackle foot problems related to diabetes. This will help you overcome any chance for acute pain and amputation.
Many people opt for merino wool socks due to personal preference or don't want to wear cotton diabetic socks. To many, woolen socks are a better option than cotton, as generally cotton looks more natural for sensitive skin. So please don't get overwhelmed when choosing the best diabetic socks of 2021. You may consider the qualities/features of diabetic socks and the problems/conditions you want to prevent before purchasing.
Therefore, diabetic socks that keep your feet away from extreme temperature changes should be an ideal choice for you when looking for comfort.
Best Diabetic Socks of 2021
DSC Ultra-soft Socks
DSC ultra-soft socks are high-end footwear for diabetic patients. These socks offer a high-quality blend of cotton & lycra. Its interior is super soft and seamless for minimum friction, preventing skin irritation and blisters. These socks will keep your feet dry and fungus-free.
Ultra-soft diabetic socks
These are non-constrictive and keep blood circulation at optimum. The addition of extra padding makes it more comfortable to wear.
Furthermore, these diabetic socks are suitable for people with conditions like circulatory problems, neuropathy, swollen and sensitive feet, and excessive profusion. These moisture-wicking, anti-odor socks are machine washable, which makes them one of the best diabetic socks.
Falari Therapeutic Crew Socks
This pair of socks is best for diabetic patients with neuropathy, edema, and circulatory conditions. These are best for circulatory disorders.
Falari therapeutic crew socks contain 90% Cotton, 7% Polyester, and 3% Elastane to provide comfy and cozy feelings to your feet. These socks will avoid constricting your lower limbs and feet and enhance your blood circulation – the primary reason for opting for a diabetic pair of socks.
These are a good buy, as they offer quality even on a budget. Its loose top end will not hinder your blood flow. Remember, these socks have no extra padding or cushions for added comfort. Suitable to wash in the machine.
Facool Merino Wool Diabetic Socks
Facool Merino wool socks are unisex. It's a well-crafted product that contains 40% high-end Merino wool, 40% Acrylic, 8% Polyester, 8% Nylon, and 4% good Elastane.
Its unique feature is substantial temperature regulating characteristics. This makes these socks perfect for all seasons to keep your feet dry in summers and warm in freezing cold winters.
Merino wool is suitable for sensitive skins, as its design makes it a non-irritating product where the toe-seam is against fiber rubbing your skin. The extra padding will keep you comfortable during the day.
Ankle Socks by Yomandamor Men's Coolmax Socks
This is a premium quality product and the perfect blend of 40%mild bamboo, 20 % elastin, and 40% Coolmax. In case you don't know, Coolmax comes from polyester fabrics for enhanced breathability. Its loose end top won't hinder your blood flow. These socks retain only little fluids and dry rapidly, making them another perfect pair of socks for all seasons. Which makes them one of the best diabetic socks for men.
These ankle-high socks are suitable for diabetic patients with circulatory, edema, and neuropathy. It soothes and protects your swollen feet and sensitive skin to the maximum. These socks have reinforced heels and toes that give you more sense of leisure and comfort. It comes in a pack of 5.
Low-cut Ortho-feet Bio-soft Diabetic Socks
Generally, low-cut socks put pressure on the lower ankle portion. However, these Ortho-feet bio-soft socks that come from 58% soft bamboo fibers and a mix of 23% Cotton, 17% Polyamide, and 2% Spandex will put no pressure points at all.
Bamboo fibers have the inherent property of acting against bacteria and fungus because of their anti-odor features. Its unique inversely linked design offers a seamless interior that prevents skin rubbing and developing blisters.
These low-cut ortho-feet bio-soft socks come with a Dryplex moisture-wicking system and extra cushion to keep your feet dry in all seasons. These are good for patients with a history of neuropathic and diabetic conditions.
Wash with warm water, and do not use chlorine bleach to keep its texture and longevity.
Over-the-calf Bamboo Diabetic Socks
It is challenging to find over-the-calf socks for a person with diabetes.
Yomandamor over-the-calf socks are bamboo-specific, comprising 70% soft bamboo and 30% Elastane. Its micro-mesh style and breathing holes make it dry socks. Bamboo has temperature-regulating properties, making these socks perfect footwear for all seasons.
The top is loose-fit with no possibility for pressure spots. Its non-irritating and toe-seam prevent your skin from rubbing against the fabric and forming blisters.
It is a good option for patients who have varicose veins and other diabetic conditions like circulatory problems, neuropathy, swollen feet, and edema.
+MD Extra Wide Knee-high Cushion Sole Bamboo Diabetic Socks
These are more like knee-high compression socks for people with diabetes with swollen feet, neuropathy, circulatory problems, etc.
The best part of this +MD extra-wide, cushion sole knee-high socks is their high-end moisture-wicking property. This will guarantee you the best soft feel you can ever think of.
These socks are crafty for a high percentage of bamboo alone, at 87%. It also comprises 10% Nylon, 2% Spandex, and 1% Polyester for washing and drying purposes. Their mesh ventilation and extra padding in the sole area make them high-quality breathable socks.
Suitable to use for preventing injuries and shocks.
Mid-calf Extra-Wide Company Medical Crew Socks
These are wider on your feet, ankle, and legs. They can stretch to an impressive 25 inches at your calf base. Their elasticity will neither swag your leg nor impede your blood circulation. These are best for people with swollen feet, edema, and neuropathic conditions.
Mid-calf extra-wide medical crew socks have 91% cotton, 7%nylon, and 2% spandex.
Their inverted toe-seam will soothe your sensitive skin and blisters from rubbing and irritation. These socks are well-treated with Microban, an anti-microbial technology that prevents bad-odor bacteria.
At work - Silky Toes Cotton Dress Diabetic Socks
Silky Toes cotton diabetic socks offer comfort and protection. These medical socks will boost blood circulation, offering a non-restrictive cuff and super stretch design to justify its comfort level.
Silky toes socks comprise 80% combed cotton, 10% spandex, and 10% nylon. These are moisture-wicking socks that help keep your feet dry, fresh, and healthy all day long. Its exceptional seamless work reduces not only the infection risk but prevents blisters as well. It comes in a pack of 3 and 6 pairs.
These socks offer the ultimate comfort for anyone while at work.
Teehee Viscose Bamboo Cushioned Diabetics Socks
Mostly, doctors will recommend some physical exercise for diabetic patients. However, it's very tough to find sports-wearing socks for people with diabetes.
Nonetheless, Teehee Viscose bamboo cushioned sports socks come with a gentle arch for more comfort. They will firmly stay in place without constricting your legs or feet. These socks come from a soft viscose bamboo yarn. The yarn has moisture-wicking characteristics to keep sweat away and keep your feet dry after your exercise efforts. Not to mention, bamboo fiber has anti-bacterial and anti-odor features.
They are a blend of 53% viscose bamboo, 32% elastic for stretching, 12% nylon, and 3% spandex.
Orthofeet Biosoft Padded Sole Diabetic Socks
Bamboo fibers are highly resilient, soft, light, and dry. As a result, bamboo is an excellent choice for work socks. Bamboo socks are also perfect for wicking away moisture.
That's what makes Orthofeet Biosoft Padded Sole Diabetic Socks one of the best socks for people with diabetes that are active and on the go. These can be the perfect work socks for anyone. The way these socks were constructed using very loose knitting allows for very stretchable and non-constricting feet protection.
The materials consist of 67% Bamboo. 26% Cotton. 6% Polyester. 1% Spandex.
Dr. Segals Extra-cushioned Diabetic and Neuropathy Socks
Dr. Segal's socks have a non-constrictive upper band to reduce constriction and assure comfort, as well as a flat-felled seam to prevent rubbing, which can lead to blisters or foot ulcers. Terry cushioned footbeds provide extra padding for sensitive areas, and all socks are made of moisture-wicking fabric.
The majority of reviewers claimed they found these socks to be quite comfortable, that they experienced less pain while wearing them, and that they liked the range of styles available in this pack.
Apex Copper Cloud No-show Diabetic Socks with Arch Support​
Apex Copper Cloud Diabetic Socks are designed to improve circulation and lower the risk of diabetes-related problems. What makes their diabetic socks unique would be the copper filaments incorporated into the yarn.
Copper Cloud Socks for Men and Women keep feet dry, odor-free, and comfortable.
PAPLUS Ankle Compression Socks for Women
Their compression socks have been shown to enhance blood flow, allow you to move faster, react faster, and conserve energy. Targeted compression zones give support ranging from mild to extra firm. These ankle compression socks are designed to improve blood circulation and oxygen flow, preventing cramping, exhaustion, and swelling while assisting in muscle rehabilitation and plantar fasciitis treatment. Which is why they are added on this list of best socks for men as well as best diabetic socks for women.
Their compression socks have a 3D circular progressive pressure design that provides all-around protection, keeps your feet at the proper angle to prevent sports injuries, and provides ankle support. They're made for everyday use and will help you perform better in yoga, the gym, cycling, running, walking, standing, traveling, or simply sitting on the couch.
Thorlo's Men's Diabetic Moderate Cushion Crew Socks
The Thorlo's Men's Diabetic Moderate Cushion Crew Socks are designed to comfort diabetic and sensitive feet. This product has recently been the subject of eight peer-reviewed clinical studies that show it relieves foot discomfort, decreases blisters and stresses on the foot, and wicks moisture.
Materials used are 85% THOR-LON Acrylic, 12% Stretch Nylon, 3% Spandex.
Conclusion
There's no standard or specific formula to choose the right diabetic socks that may suit you best. All you can do is to look for what purpose the socks will serve to soothe your recurring and immediate pains. Diabetic socks will provide you with comfort and protection against common diabetes-related foot problems. Nonetheless, your doctor may give you the best recommendation for what medical or diabetic socks you may use.
It would be best if you went for anti-bacterial, moisture-wicking, and seamless socks to prevent rubbing skin against clothing fiber. Look for soft and easily stretchable socks to suit your diabetic type.
Remember, you should opt to keep your feet dry without constricting your blood level. Diabetic socks help you keep your feet healthy and fungus-free.