The 10 Best Compression Socks of 2022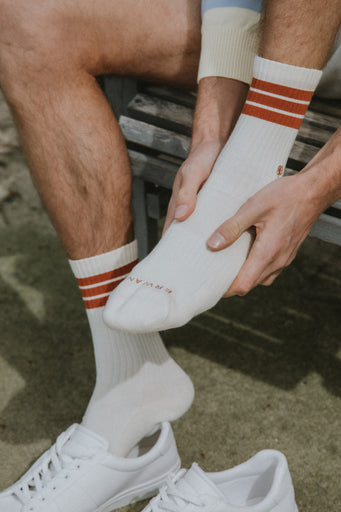 Compression socks, as the name suggests, will keep a persistently soft squeeze on your feet and legs until where the socks roll up. The primary purpose of using compression socks is to keep a steady and better flow of blood in the lower limbs for reducing discomfort, fatigue, and swelling. 
Moreover, many people use compression socks on their doctor's recommendation if they have varicose veins in the legs or other medical conditions like diabetes. 
Compression socks will increase the pressure in tissues underneath the skin. This will prevent excessive leakage or passage of fluid from the capillaries and increase absorption of tissue fluids by capillaries and lymphatic vessels.
You will observe health benefits like swelling reduction in the legs and ankles when using compression socks.
Types of Compression Socks
There are two types of compression socks:
Graduated
Anti-embolism socks
The first type is graduated compression socks, all tight around the ankles. They become less constrictive gradually as they go up. They are mostly knee and thigh-high socks popular among athletes.
In contrast, anti-embolism compression socks are purpose-specific and designed to keep a steady flow of blood and prevent clotting, which can happen in different diseases.
We have chosen the 10 best compression socks of 2021, which you may need to have a comfortable time in case you have diabetes or any other condition.
Diabetic Sock Club's Compression Stockings
DSC's compression stockings are from premium quality materials, these compression socks are ultra-soft and cozy with moisture-wicking properties.
Diabetic patients can develop blisters on their feet and a foul odor due to moisture, leading to severe foot-related problems. Regular use of over the calf compression socks helps in preventing blistering and minimizes bad odor.
The secret behind the effectiveness of compression socks is its unique gradual compression design. When you wear the socks and place over your calf, it begins applying gradual compression on your lower limb. The pressure is more directed towards your ankles and feet, and as it moves upwards, the compression lessens. This mechanism promotes optimal blood supply to and from your lower limbs providing ultimate comfort and reducing joints or muscle pain and soreness..  
Bitly Plantar Fasciitis Compression Socks
These socks are best for ankle compression to provide arch support to relieve heel pain if you are diabetic or have other diseases. The arch support applies soft compression at the center of your feet, which stimulates the flow of blood to ease pain and discomfort. Its foot compression sleeves will give support to your fascia ligament.
Its significant feature is its Nano Brace for ultimate comfort.
It has a moisture-wicking ability, making it easy to slip in under any socks, slippers, and shoes. You may find these socks a good option to wear during walking, standing, dancing, running, cycling, jogging, etc. 
Zensah Tech+ Compression Socks
Zensah has compression socks that focus on improving their blood flow in lower legs, shin splints, and calf areas by providing a gentle squeezing effect. Furthermore, the pressure in the ankle area will prevent injuries. If you have a calf-strain, these socks will help you quickly get back to your favorite activities.
Its seamless toe will prevent chafe and blister. Their anatomical fit means these socks can deal with the strains and pressure on your left and right foot individually. 
The fabric consists of 82% polyamide and 18% elastane, making them moisture-wicking, good for keeping your feet dry all day long. The elastic bands on top will support the arch, thus avoiding any fatigue factor.
These socks are a true display of graduated compression type. This feature means maximum compression will remain at the ankle area and lesser in the calf region, promoting blood flow. This will help reduce swelling and help improve muscle recovery time.
CEP Tall Socks for Performance
These socks have 85% Polyamide and 15% Elastane with specifications for your right and left foot.
You may find these socks great for athlete women when comfort and durability are required. These socks will help improve your performance by reducing fatigue, cramping, and swelling.
Moreover, these are graduated compression socks with 20-30mmHg that will boost the flow of blood for better performance. They are without restricting toes, thus preventing skin-to-material rubbing.
Their best use is during traveling or nursing activities or other prolonged physical exertion activities like hiking, cycling, or training session for a marathon race.
Its well-knit design allows air to cool quickly, whereas padding cushion and seamless toe will protect against blisters and hot spots.
SB SOX Compression Socks (20-30mmHg)
SB Sox are graduated compression socks (with 20-30 mmHg). These socks are best to use for better blood circulation, reducing the build-up of lactic acids, and quick muscle recovery in feet, ankle, calf, and leg.
It has a reinforced cushion spreading from heel to toe. These socks offer premium support, comfort, and relief, thanks to their lightweight and breathability fabric mix. Its design will allow it to fit your calf, ankle, and legs without constricting blood flow.
Instead, it will improve blood circulation. Athletes, fitness workers, hikers, and tennis players commonly use these socks for all-day wear. The moisture-wicking ability for dry feet and mesh ventilation helps to avoid fungus and blistering.
2XU Compression Performance Run Socks
2XU Compression Performance Run Socks are good for runners and athletes due to their blend of 72% nylon and 28% Invista sport Lycra, making it an easy wear for airflow and quick-drying feature.
Their zoned breathability are the ultimate solution to keeping your feet dry, cool, and comfortable. Its graduated compression will support your feet, calf, legs and keep blood flow steady. Their seamless and light padding will give you blister-free wear all day long. 
These compression socks are good for diabetics with excess sweating, fungus growth, and bad feet-smell. It's texture and knitting method offers free airflow in and out to avoid the accumulation of sweat, thus reducing the risk of fungus growth.
PRO Compression Marathon Socks
The colorful and innovative designs make these unisex socks are a go-to option for both men and women. These socks have a wide top cuff allowing maximum flow of blood. Although the cuff is wide, its poly-nylon fabric won't let it drop down. 
Pro Compression Marathon socks which makes them more breathable even in most demanding exercises like running, hiking, etc. Its moisture-wicking character makes it long last than other compression socks.
You will observe that its graduated compression will help you relax more and reduce any muscular pain in the feet – perfect all-day wear for office workers. These socks will reduce soreness and swelling in varicose veins, ankles, arches, and calf muscles. What's more, it will not let fatigue develop and get you tired during exercise; good for sore Achilles tendons.
Lily Trotters Athletic Compression Socks
Lily Trotters Compression Socks will add a tinge of fashion and, at the same time, will help reduce swelling, soreness, and muscle cramps. It will slow down spider and varicose veins. It can also help avoid blood clotting. 
This right ratio of fabric mixing gives you a comfortable hug around your feet and leg area. 
These athletic socks are made with graduated compression (at 15-20 mmHg). As the maximum amount of pressure is at the ankles, it decreases as it goes up your legs. This will prevent blood accumulation in the feet and legs and promotes the normal flow of blood.
Sockwell Women's Chevron Sock
It's the perfect blend of 32% Merino Wool, 32% Nylon, 31% Rayon, and 5% Spandex.
These are highly recommended during long flights, travel, long sittings, exercises, and long jobs that require you to stand for the most part of the day. Hence, these are ideal for people who belong to professions like nursing, construction, etc.
Moreover, these compression socks are good for pregnant women and when you are looking to minimize your feet or leg swelling and fatigue. It will relieve moderate varicose veins, thus keeping you fit. You have an option for cushioned soles, albeit the socks will remain very light. It has a seamless toe and good arch support for ultimate comfort even at work.
CHARMKING Compression Socks at 15-20 mmHg
Charmking compressions socks are another top choice, offering various color combinations in socks. You can use these socks for days without a wash. 
Their targeted compression zones will give you the comfort to stay fresh and move quickly throughout the day. These socks have a high percentage of nylon varying from 40 to 85%.  Its comfort lies mostly in its all-direction stretching feature. Moreover, its loosely-knit mesh keeps the fabric at optimal temperatures. It's a great gift idea as well. However, it has gained popularity among workaholics, athletes, and office workers. 
It will help reduce numbness and keep your blood flow normal at the optimum level. Its non-constricting ability is good for people having swelling or fatigue build-up.
Conclusion
It will be good if you look into various aspects while opting for compression socks. 
Their performance reviews show these socks provide the best support for achieving your goals, the reason you will go for compression socks. They help reduce fatigue, prevent injury, or give you ultimate comfort while doing physical activities.
Compression socks come in a great range of prices, so you should look for what suits you best. Not to mention, nothing is more important than health and comfort.  Lastly, you should go for fabric that does rub against the skin, keeping you comfortable all day long.