Best Athletic Ankle Socks for Wide Feet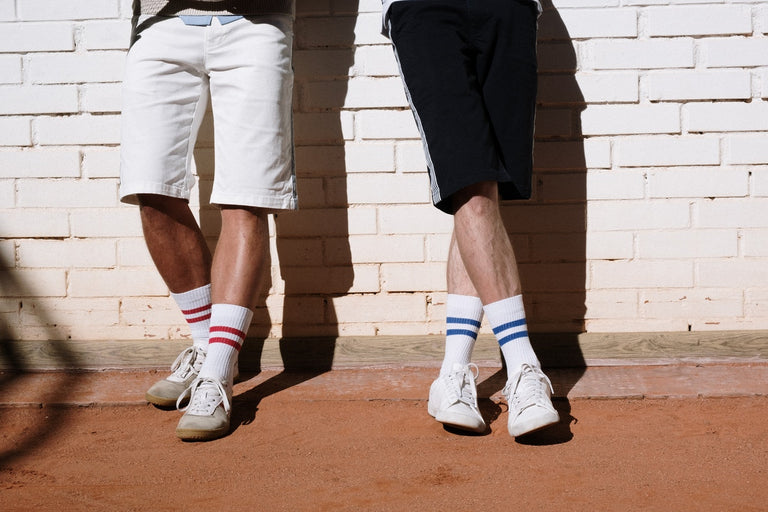 Are you looking for the best athletic socks? Well, you have plenty of options to choose from, thanks to the latest advancement in technology. Now, you can find different types of socks, depending on your needs, such as feet condition and size. 
So, if you want a new pair of supportive athletic socks that prevent your feet from hot spots and blisters, you can easily find one. In addition, athletic socks come with advanced material like Merino wool, perfect for cooler climates and offer heat while keeping your feet dry. 
Every individual has a different size of feet, so the same length of socks cannot fit all. However, you can find athletic socks in any size, including wider feet.
This post will explore some of the best athletic socks for wide feet that you can consider confidently without worrying about material and quality. But first, let's discuss the factors you need to consider.
What to Look for in Best Athletic Ankle Socks?
Material
Material is one of the most crucial concerns when choosing athletic socks. The socks should have a material that is breathable and durable. You may consider the material that has distinctive abilities like antibacterial properties, extra cushioning, and compression. 
If you are an athlete, you can choose socks with synthetic fiber. Moreover, cotton may be another option but not for athletes because cotton cannot absorb sweat. It is essential to opt for a material that has moisture-wicking properties. So, synthetic fibers are an excellent choice to deal with moisture and are likely to dry fast.
Additionally, Merino wool is another comfortable choice for athletes, and it can manage moisture, provide comfort, and contains antibacterial properties. Socks with this material keep your feet warm in cold weather. Also, it does not have a smelly odor like other materials. 
Apart from considering material in athletic socks, it is essential to notice the design, sewing technique, and texture. The stockings with minimal seams are an excellent option to keep your feet blister-free. 
Breathability
Another consideration is breathability. The best socks are those that have good moisture management. So, an athletic sock that cannot absorb moisture is not a good choice. In this case, there are more chances for developing blisters and hot spots.
The breathability depends on the combination of materials that play a role in making the sock. Most synthetic materials are good at absorbing all sweat in your feet. Avoiding cotton will be the best option as it is not breathable and does not work for heavy sweating.
Comfort
Some individuals prefer natural fibers over synthetic ones. So, see what makes your athletic socks more comfortable. It also depends on your choice of cushioning. So, when buying athletic socks, you can consider whether it has blister formation, too many seams, or tiny fabric. Some of this material may cause allergic reactions. Besides, the top choice is Merino fabric that is excellent to provide comfort.
Style
Most individuals also focus on style when choosing athletic goods, including socks. You may also consider color while buying socks that attract you the most. There is a wide variety of colors that you can opt for, including matching style with your requirement whether you want socks for wider feet or shorter feet.
Value
All athletic products are expensive since they require durable and high-quality material to prepare. So athletic socks are also expensive with high-quality material. Moreover, they have a special fabric that is a perfect choice for runners and provides you the utmost comfort.
Best Athletic Ankle Socks
Diabetic Sock Club Cotton Diabetic Ankle Socks

Made in the U.S.A. 95% Acrylic - 5% Lycra. Our Ultra-Soft Upper Calf Diabetic Socks have a loose fitting top that will not bind or restrict circulation and yet the special knit keeps them securely in place. Made with open weave allows the foot to breathe by wicking moisture away from the skin. This is recommended for people suffering from the effects of diabetes, circulatory problems, edema, and neuropathy.
CelerSport Ankle Athletic Running Socks
These athletic running socks have a durable material, containing almost 88% cotton, 11% Polyester, and 1% Spandex. The high-quality cotton makes the socks air-permeable and moisture-wicking, which will help you keep your feet dry throughout the day. Moreover, the athletic socks combine cushion material that adds thicker yarns and provides optimal comfort. Extra thick padding can absorb high impact and provide protection. Mesh ventilation is suitable for cooling heat and providing the perfect temperature.
These socks have good compression in the arch that gives you protection while walking, and you can go on a long run without any discomfort. The elastic tab promises socks to be non-slip.
Extra Wide Comfort Fit Athletic Quarter 
These are the best socks for wider feet that are easy to wear and stay up. Extra Wide Comfort Fit Athletic Quarter introduces non-constricting, comfortable and superior stretch best for wide or swollen feet. The socks have a blend of 91% cotton, 7% Nylon, and 2% Spandex that make a good combination. 
What's more, the socks promise material quality that offers 100% satisfaction. The non-binding socks will provide you great comfort and a good experience. The socks are well-designed, especially for wide feet with soft ring-spun cotton.
The non-binding and extra-wide sock is the best choice for men who do not find tight socks comfortable. It is the best option for a shorter, sportier anklet that fits well in wide feet and swollen legs. The socks consist of vast stretches through the entire socks and do not hinder or affect circulation. In addition, the thicker athletic sock is a comfortable fit, non-binding, and the best option for medical conditions like edema and circulatory problems. 
Nike Dri-FIT 
Nike Dri-FIT is the top choice of athletes. The highly durable material offers supportive features to maintain dry conditions for your feet. The material combines 49% polyester, 43% cotton, 6% nylon, and 2% Spandex. Polyester and cotton material in the socks make them soft and plush. The design keeps your feet dry and cool when you are on intense days for long hours. At the same time, stretchy fabric provides a good hold avoiding non-slip. Also, it protects against sweat and moisture.
The fabric promises comfort and keeps your feet cool enough. Extra cushioning and a higher density of Syndax make it more comfortable. Moreover, lightweight mesh panels present on the top of the foot prevent hot posts and help to lift hot air. You can find it in multiple styles of your choice. The fabric prevents all blisters and keeps you feeling refreshed for a long time.
Smartwool PhD Micro 
Here is another best choice, the Smartwool PhD Micro is a thin sock even though it provides little protection. The light construction of the socks makes them breathable, and they don't feel heavy when you wear them. Interestingly, the sock comprises a material including Merino wool and nylon and some elastic material for stretching. Merino wool contains anti-microbial properties and offers soft material. 
The sock is thin and highly resistant to wear. A seamless forefoot helps eliminate the potential for excessive friction, and the heel tab gives protection to the foot. The cushion material provides soft touch and is lightweight while proving maximum excellent effect. It integrates quick-drying fabric and prevents sweat completely. Moreover, its aesthetic appeal and high comfort speak for its individuality.
Dickies Dri-Tech
Dickies Dri-Tech is the most famous brand in the sports field. It is one of the great options for athletic socks because of its durability; it lasts for long distances and is moisture-resistant. The design is charming and supportive. You can get a new-sock feel even after multiple washes. If you want something soft that can give you comfort during your long sports sessions, Dickies will be a great choice.
Similar to other brands and designs, the fabric is also high quality, comprising 70% Cotton, 28% Polyester, 1% Nylon, and 1% Spandex. The high cotton makes it soft and comfortable to wear. At the same time, stretch material is responsible for wicking away all moisture and makes it non-slip while holding it firmly in its place.
The additional padding in the bottom of the foot provides extra cushioning and makes it lightweight. The socks work well to wick hot air and moisture away from the foot. If you are an athlete and you need to travel long distances, don't worry about the choice. The socks will support you without any problem, such as moisture buildup, rubbing, discomfort, or irritation. This durable pair of socks is the best choice for runners. It will maintain the dryness of your feet and help you give your 100% in the game. 
Bottom Line
Overall, the athletic ankle socks for wide feet make it easier for you to focus on your game. All crucial considerations in the post will make it easier for you to decide what to opt for with maximum benefits. Choose athletic ankle socks with moisture-wicking, antibacterial, anti-odor properties. It should have a breathable material, the right size (for wide feet), color, and texture that meet your specific needs and requirements. So, check all these features, and choose any of the brands from our top picks mentioned above.