5 Foot Care Tips Every Retiree Needs to Know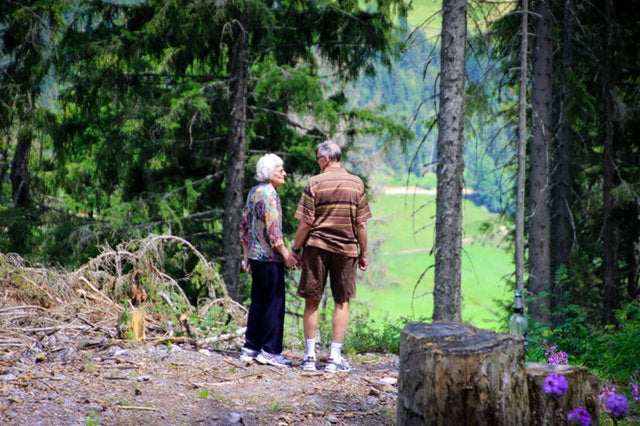 Once we retire, we dream of spending our days chasing after grandkids and walking along beaches. However, to fulfill these dreams, we have to take care of our feet first. As we age, our feet begin to show and feel the signs of daily life. Taking a few moments every day to care for your feet can ensure you feel ready to handle whatever life throws your way - whether it's a walk to the park or a round of golf.
UNDERSTAND YOUR RISKS
As we age, the risk of developing serious problems in our feet rises. Understanding what raises your risks of foot issues can help you take steps to lower your risks. Many serious foot issues can lead to a lower quality of life, so doing what you can to mitigate your risks before you encounter any problems is recommended. 
Those who live with both type 1 and type 2 diabetes are at an especially high risk of developing serious foot problems. Unmanaged diabetes can lead to damage to your nerves called diabetic neuropathy. Beyond the serious complications of diabetes, the disease can also lead to a loss of feeling in your feet that make daily inspections of your feet necessary.
CHECK YOUR FEET DAILY
The best way to take care of your feet is to check them daily. Even if you have perfect feeling in all of your toes and area of the foot, checking your feet allows you to see trouble coming before it gets out of hand. Either every morning or every night, take a few minutes to look over your feet. Be sure to note if you find any of the following issues, which may be symptoms of more serious issues:
Blisters or bunions

Ingrown toenails

Discoloration of the toenails

Unusual bruises

Cuts, scrapes, or other injuries

Numbness

Swelling

Sensitivity to touch
Be sure to talk to your doctor if you discover any unusual symptoms or feel unusual pain in your feet. Staying vigilant about checking your feet can help you and your doctor take care of minor issues before they become major problems
Looking for extra guidance on how to check your feet? Read our Diabetic Foot Care Checklist for more information on how to properly check and care for your feet.
PROTECT YOUR FEET
Keeping your feet protected with sturdy socks and shoes is one of the best preventative measures you can take in your foot care routine. Even in a perfectly clean environment, there are still dangers to be had walking around barefoot, like sharp corners or rough edges. 
To best protect your feet, you should always wear socks, especially if you're diabetic. Even if you aren't diabetic, consider investing in a pair of diabetic socks. These socks are designed to help support, protect, and provide soft comfort for ailing diabetic feet. These design features are useful to everyone - not just diabetics - when it comes to keeping your feet healthy and happy.
WHAT ARE DIABETIC SOCKS?
Diabetic socks are specifically designed to help people with diabetes improve their foot health. These socks are made with materials that are designed to help reduce the risk of injury and infection. They are also designed to help increase circulation, reduce pressure points, and prevent moisture build-up. All of these things can help reduce the risk of developing foot ulcers and other serious foot conditions.
Diabetic socks are typically made from materials like cotton, bamboo, and acrylic. These materials are breathable and help keep your feet dry. They are also soft and comfortable, which helps reduce the risk of irritation and blisters. Diabetic socks are available in a variety of styles and colors, so you can find a pair that suits your preferences.
STAYING ACTIVE
As we age, it's common for us to slow down a bit, but that doesn't mean we should stop moving altogether. Exercise is essential for good health and is an effective way to keep your feet healthy. By strengthening the muscles in your feet and improving blood flow, regular exercise can help prevent many common foot problems.
You don't need to join a gym to get the benefits of exercise. There are plenty of low-impact activities that are perfect for seniors, including walking, swimming, yoga, and cycling. Even gardening or doing housework can count as light exercise. The important thing is to find an activity that you enjoy and that you can do regularly.
It's also essential to wear the right footwear when you exercise. Invest in a good pair of walking or running shoes that provide proper arch support and cushioning to absorb the impact of your feet hitting the ground. Avoid wearing flip-flops or sandals, which can increase your risk of falls and foot injuries.
DON'T FORGET TO REST
While staying active is crucial for good foot health, it's also essential to give your feet time to rest and recover. After a long day on your feet, take some time to sit down and elevate your feet to reduce swelling and improve blood flow. You can also try a foot massage or soak to soothe tired, achy feet.
When you're relaxing, be mindful of your foot position. Avoid crossing your legs or sitting on your feet, which can restrict blood flow and increase your risk of foot problems. Instead, keep your feet elevated and uncrossed to promote healthy circulation.
CONCLUSION
As we age, taking care of our feet becomes increasingly important. By following the tips outlined in this article, you can keep your feet healthy and pain-free so that you can enjoy your retirement to the fullest. Remember to check your feet regularly, wear proper footwear, stay active, and give your feet time to rest and recover. By taking care of your feet, you'll be able to enjoy all the activities you love, from playing with your grandkids to strolling along the beach, for years to come.